Maaco Certifications
Our Maaco Certified Centers are the "best of the best." These Centers are distinguished for their quality of work in both auto painting and body repairs. Certified Centers have to pass a rigorous certification process annually that is a comprehensive review of their business and repair services.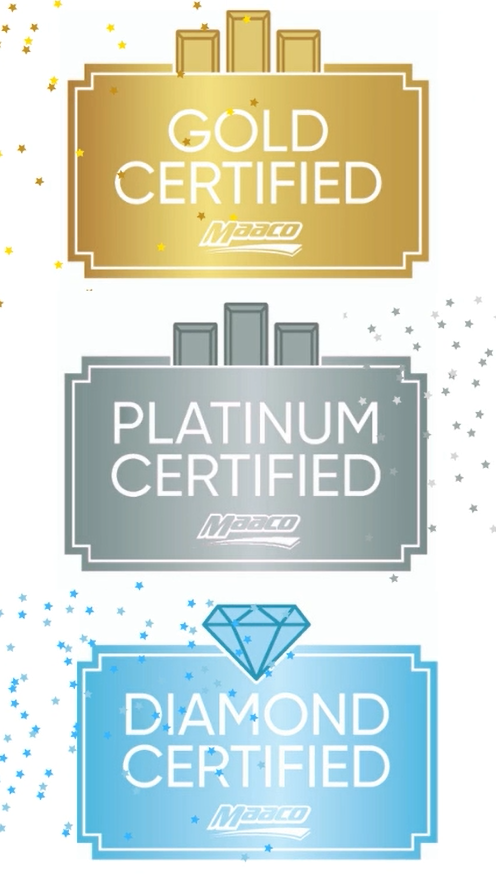 Gold Certified
A Gold Certified Maaco center delivers on all the brand standards set by Maaco and is primarily serving the traditional retail customer who needs their vehicle painted with minor cosmetic repair.
Platinum Certified
Platinum certification is the next level and is required when a center wants to participate in the Driven Fleet program to service national fleet accounts and perform insurance work.
Diamond Certified
Diamond certification is a premier level of achievement, meaning that a Diamond center has all requirements previously mentioned and the necessary training and equipment to participate in an insurance company DRP (Direct Repair Program).
Manufacturer and Third-Party certifications
The Manufacturer and Third-Party certifications listed below are different per location and reflect completion of the requirements set forth by each manufacturer or organization and are the responsibility of the local owner/operator to maintain. Additionally, these achievements do not provide additional guarantees or warranties above and beyond those already established by Maaco.
The Assured Performance certification network works with various industry manufacturers to ensure best practices are followed in collision repairs. This means, any shop which is certified through Assured Performance meets the individual requirements by the above manufacturers in terms of quality vehicle repairs.
The National Institute for Automotive Service Excellence tests and certifies individual technicians who meet certain requirements. In order to become ASE certified a tech must have at least two years of professional work experience and be able to pass at least one test surrounding their trade. ASE does mechanical and cosmetic technician certification. This means a tech can be certified in auto painting, ding and dent repair and other various categories, all of which means they excel at their craft.
Highly specialized collision repair standards are required to maintain the high crash standards Audi engineered into steel and high-tensile steel frame, body and chassis components. Each Audi Authorized Collision Repair Facility is equipped with all of the recommended tools and equipment to meet Audi requirements.
FCA stands for Fiat Chrysler Automobiles and are certified in the Fiat Chrysler Automobiles Collision Care Program. Certification identifies that they have all the critical tools, equipment, training, and facilities to properly repair Chrysler, Dodge, Ram, SRT, Jeep, and Fiat vehicles to the original manufacturer's specifications.
Ford Certified Collision Network (FCCN) repair centers have the specialized training and tools necessary to return your Ford to its pre-collision condition. Certified technicians ensure optimal vehicle performance, having access to the right training, tools and parts means enhanced safety for you and your family.
GM Collision Repair Network provides tools and information that help promote proper, safe repairs of GM vehicles. The program incorporates performance measurements on pre- and post-repair scans, usage of OEM repair procedures, completion of recalibrations and quality-control checks.
ProFirst facilities are certified by Honda for proper tools, training, and their commitment to ongoing training to help ensure thorough repairs for your Honda. Certified shops are equipped and educated with the right tools and equipment to repair your Honda properly.
A Hyundai Recognized Collision Repair Center, has to meet specific Hyundai excellence benchmarks. These criteria cover all aspects of the repair business, from industry experience and customer satisfaction, to technical competencies, regulatory compliances and advanced capabilities.
I-CAR Gold Class Certification is an independent third-party certification process that is quite literally the gold standard for collision repair. I-CAR Gold Centers are extensively trained in the latest tools and technologies of the trade.
Individual technicians who have completed the highest levels of I-CAR training are designated Platinum certified. In order to maintain their Platinum status, these individuals must also take continuing education courses to keep current with the latest techniques and safety procedures.
The Infiniti fleet of vehicles is the luxury brand of Nissan. Infiniti Certified Collision Repair facilities have knowledge of the latest designs and technology of the Infiniti fleet of vehicles. You can be assured that any repairs completed on your vehicle have been done by skilled and experienced technicians.
A Certified Kia Collision Repair Center ensures that Kia owners can choose a provider that has the proper tools, equipment, training, and facility required to repair their vehicle to OEM specifications while maintaining the vehicle's fit, finish, durability, functionality, and safety.
Certified Collision Centers deliver the exceptional repair experience Nissan owners deserve. They meet or exceed Nissan's standards for repair work, training, equipment, and delivery of customer service. For a timely, high-quality repair, we recommend choosing a Nissan Certified Collision Center.
The VeriFacts VQ Program provides independent, third-party verification of repair quality using VeriFacts patented technology for unbiased, consistent measurement and reporting. VeriFacts VQ shops have made a commitment to service excellence and continuous improvement process to be independently measured and audited by VeriFacts industry experts.
To make sure your Volvo is properly repaired, there are exacting standards for Certified Collision Facilities. These standards address four key areas: Facilities, Management, Training, and Tools & Equipment. Using our Certified Collision Facility ensures all work will be performed to Volvo's factory standards by expertly trained auto body repair technicians.
This third-party accreditation means that there are SGI Elite Accredited journeymen available and authorized at this location to provide appraisal estimating with top-level SGI approval authority. This certification is a symbol of customer excellence – providing only the best customer service, expertise and craftsmanship.
Subaru Certified Collision Centers provide the proper training and equipment necessary to restore your vehicle to its original factory specifications. They also use the proven fit and quality of Genuine Subaru Collision Parts for replacement to help ensure that your Subaru is returned in like-new condition.
Restore your vehicle and your peace of mind when you bring it to a Volkswagen Certified Collision Repair Facility (CCRF). They've got the right people, parts, tools, and know-how to get the job done according to Volkswagen standards.
For a full list of your local shop's certifications, please visit their shop page. Find a shop near you.
All OEM Certifications descriptions come from the original manufacturer. To learn more, visit their respective webpages.