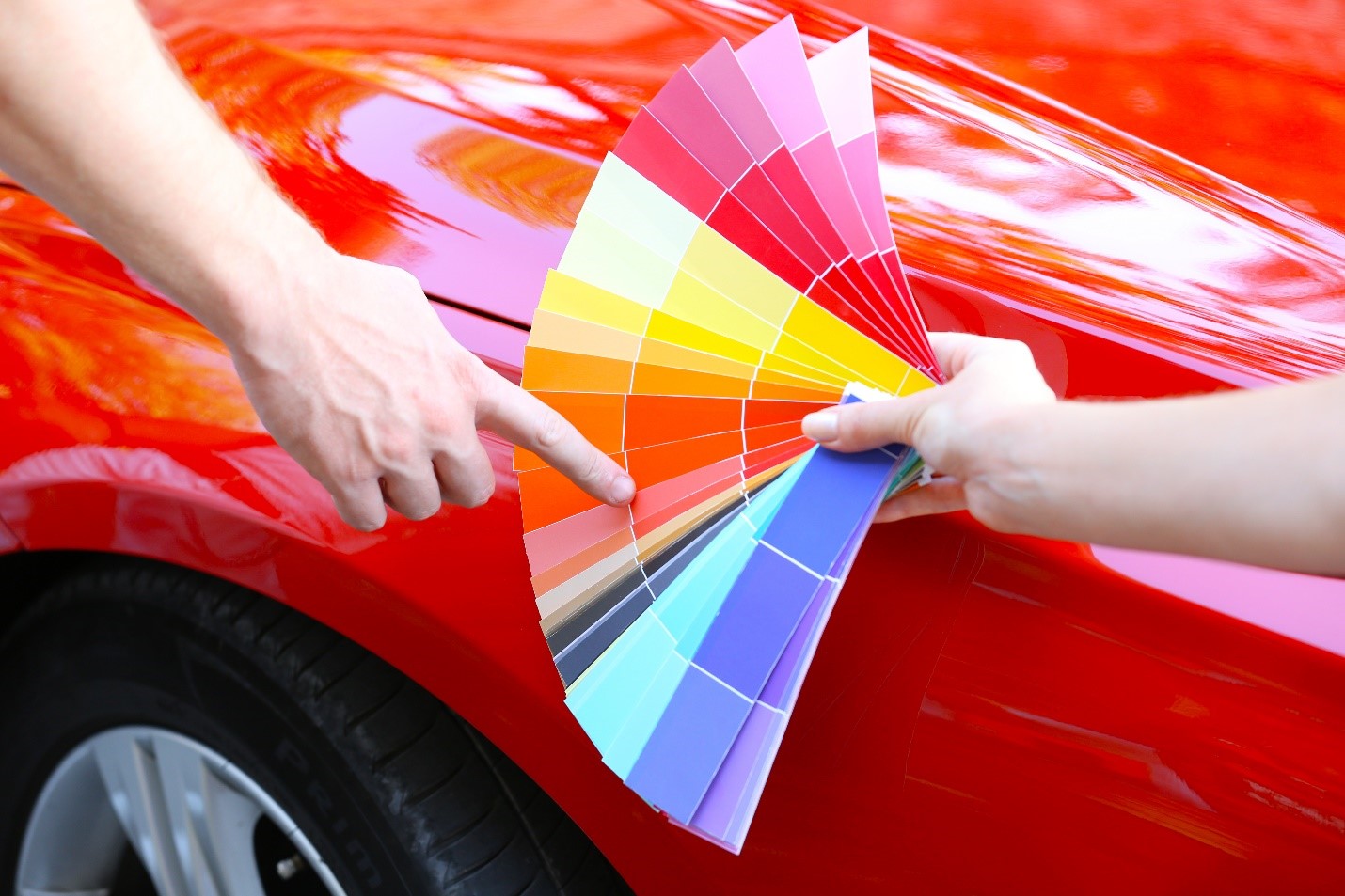 As you consider the look and feel of your vehicle, you may not have given much thought to the makeup of the physical surface. As the sun reflects off the surface of your vehicle, the biggest question you might be wondering is what goes into the paint?
Paint is a solution applied to a wide range of surfaces to provide beauty and protection that dries in the solid form. Paint is composed of the following:


Reducer- used to reduce the thickness of the paint so that it can be sprayed on the surface of your vehicle. It provides the initial layer of both adhesion and leveling and continues to evaporate for up to 6 weeks while your paint cures, which is the process of drying/hardening.


Pigment- is a powder that is finely ground to create the color and special effects of paint. It can be categorized as solid, metallic, or tri-coat. The pigment has filler properties that ensure coverage. It allows for both durability and corrosion resistance. Maaco experts are ready to assist you with either the perfect match to your current car color or deciding on a new color that works best for your preference.


Additives- various additives can be added to paint to improve durability, enhance the gloss, and even increase flexibility for your plastic vehicle parts such as bumpers.


Resin (Binder)- this is the backbone of automotive paint, resin serves as the glue that keeps pigment even for a smooth and durable finish.


In addition to the components of paint, there are also different types of paint that can be used on vehicles. At Maaco, we offer different levels of paint and can walk you through the options to help choose the best paint service for your vehicle. There are two types of paint used on vehicles.
Enamel
- applied to cars, trucks, and other vehicles to provide hardness that withstands the elements resulting in a clean finish. At Maaco, we use a single-stage application of enamel paint providing you with a good color match and gloss.
Pros


Cost-effective option when you want to refresh your vehicle and budget is a priority.


Additives are available to enhance its durability and protection from sun exposure.


Great adhesion to existing paint that's in good condition.


Cons


Lighter metallic pigments may not distribute as evenly in the final finish


Not as durable against the elements over time


Generally doesn't offer good resistance against chemical solvents such as brake cleaners


Urethane
- is the industry standard of paint applied to cars, trucks, and other vehicles. It can be used across all industries. It results in a nicer, finished look that has a higher gloss and the potential for increased durability for protection against the elements. At Maaco, we offer both single-stage and two-stage applications.
Pros


Provides a smoother and finer quality surface for great shine


High durability against fading and more resistant to chipping


Single-stage options look great at an affordable price.


An integrated clear coat can be added to our single-stage application enhancing shine and durability


Cons


Higher cost than enamel


Single-stage metallic colors cannot be color sanded and polished and minor imperfections may show.